5.3.

General Information

NextGIS Web is a web mapping application designed to store, manage access and visualize geographic data.

NextGIS Web is open source software. NextGIS Web supports Open Geospatial Consorcium (OGC) open data exchange protocols and meets the modern requirements for application architecture implemented on the basis of free software (Open Source).

NextGIS Web allows:
Creation and display of maps.

Map navigation (zooming, shifting).

Manage the map through web-interface.

Vector (ESRI Shape, PostGIS etc) and raster data import.

Manage access rights for layers, groups of layers, maps and other resources.

Interaction through API.
NextGIS Web has server and client sides.
Server side stores and renders geodata. It's written in Python using Pyramid framework. Client side is a user interface for interactive geodata management as maps and separate resources.
Client is written in JavaScript. System's configuration is stored in a PostgreSQL database with a PostGIS extension. Page markup for user interface is written using HTML. Style for user interface is added using cascading style sheets – CSS. Queries to databases use SQL language.
NextGIS Web is a modular system with several core modules and extensions. Extensions could be enabled or disabled at the application configuration step. NextGIS Web components communicate with each other using internal API methods.
NextGIS Web is designed to operate in Linux operating system environment (Debian-based distributives are recommended, e.g. Ubuntu Server). Read more in section Recommended software versions. NextGIS Web client-side works in all modern browsers. User interface with a published Web Map is shown on Pic. 5.1..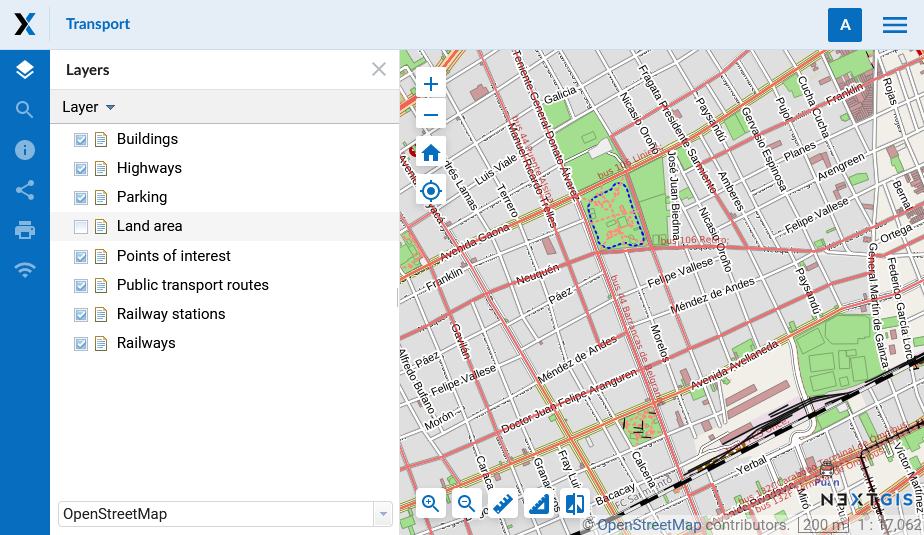 5.3.1.

Key features of NextGIS Web

NextGIS Web has the following key features:
5.3.2.

Minimum hardware

Minimum hardware requirements for NextGIS Web software:
4 vCPU

8 Gb of RAM

250 Gb HDD (SSD would be much better)
5.3.3.

Recommended software versions
Ubuntu Server 20.04 LTS

Python >= 3.8

PostgreSQL >= 10

PostGIS >= 2.5

GDAL >= 3

Node.js >= 14.x

Yarn >= 1.x
Recomended browsers are:
Google Chrome (version 94 or newer)

Mozilla Firefox (version 91 or newer)

Edge (version 94 or newer)

Safari (version 14 or newer)
Microsoft Internet Explorer browser is no suppoted.
NextGIS Web would probably work with other versions, but this is not garanteed.