9.9.

Layer settings

Map is a set of raster and vector layers. Layers tree panel is designed to display the content of a map and to control visibility and hierarchy of map layers.

To change the hierarchy of map layers long-press the layer which is to be moved up or down. Layers tree panel will switch to Edit mode. Keep pressing and move the selected layer to its new position.

For turning layer visibility on/off tap on Layer visibility button (item 3 in Pic. 9.4.).

Additional operations with layers are available from a separate layer contextual menu (item 5 in Pic. 9.4.).

For example, contextual menu for a vector layer includes following items:
Zoom to extent

Attributes

Share

Send to NextGIS

Edit

Delete

Settings
Note
Contextual menu depends both on layer type and geodata source. Raster layers have different contextual menus than Vector layers. Raster layers created from tile cache have different contextual menus than raster layers created from external geoservices.
9.9.1.

Vector layer settings
9.9.2.

Raster layer settings

Raster layer contextual menu includes the following items (see Pic. 9.80.):
Zoom to extent

Delete

Settings
Note
Raster layer created from external geoservice will have the option "Download tiles" instead of "Zoom to extent". See Caching of tile service data for details.
9.9.2.1.

Style settings

Open layer contextual menu and tap on "Settings". Raster layer style settings will open as shown in Pic. 9.81. below.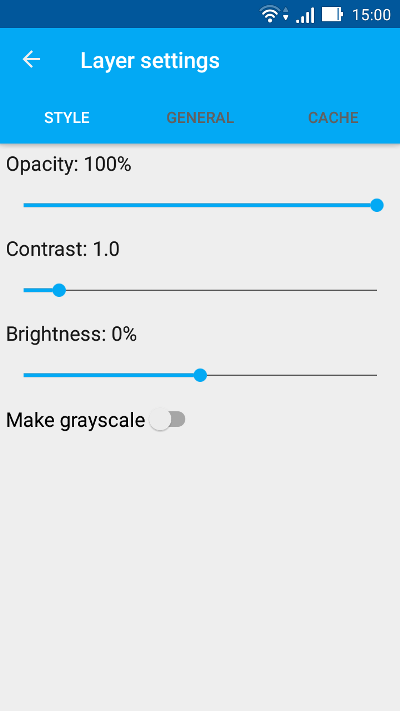 Here you can set the values for:
Opacity. The value of layer opacity determines how intensive it hides or displays the contents of the underlying layer. Raster layer with 1% opacity is almost transparent. Completely opaque raster layer has an opacity of 100%.

Contrast.

Brightness.
You can also apply to Raster layer the option "Make grayscale" - the layer will be displayed in shades of gray instead of original colors.
9.9.2.2.

General settings

"GENERAL" settings tab shows such information about raster layer as its local path, layer name & zoom levels to show on the map (it is possible to display the layer within certain zoom levels only). See Pic. 9.82. below.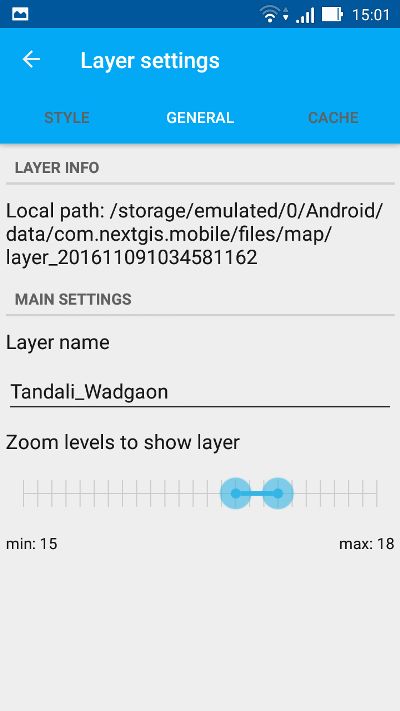 Using this tab you can change layer name and zoom levels to show.
9.9.2.3.

Cache settings

Using "CACHE" settings tab you can set TMS in-memory cache size for a raster layer from these options:
No cache

1 screen

2 screens (recommended)

3 screens
You can also clear in-memory cache for this layer from this settings tab.